Mt. Pleasant, SC Acupuncture                                                 To Schedule Call 843-416-8218
Health is a state of complete harmony of the body, mind and spirit. When one is free from physical disabilities and mental distractions, the gates of the soul open.

- B.K.S. Iyengar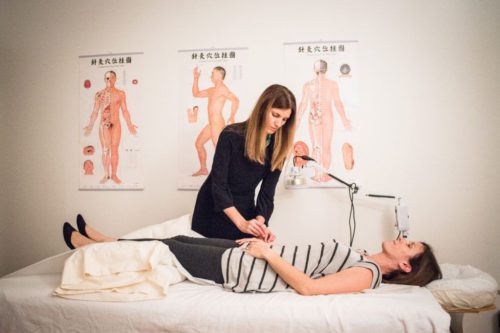 What is Acupuncture?
Acupuncture is ancient Chinese medicine dating back almost 2,500 years ago. It's based on yin and yang, the balance within the body. Just as medical doctors view the body as a system made up of veins and arteries, oxygen and blood, an acupuncturist considers it an arrangement of channels, or meridians, where life energy (or qi) and blood flow. When qi or blood is disrupted or compromised, the body is not in balance and illness or pain may occur. The insertion of ultra-thin needles (about the thickness of a human hair) at distinct points along these meridians stimulates the qi and blood and lessens symptoms, and many times, eliminates the condition all together.
Acupuncture can treat a wide range of illnesses. Below, a short list of conditions Katie has treated…
Acid Reflux
Acne
Acute and chronic pain (including back, hip, knee and shoulder)
Allergies
Alleviation of HIV symptoms
Arthritis
Asthma
Chronic sinus congestion
Constipation
Diabetes Types I and II
Erectile dysfunction
Eye issues
Fatigue
Fertility difficulties
Fibromyalgia
Flu and cold symptoms
Gallstones/Kidney Stones
Gastrointestinal issues (including IBS, Colitis and Crohn's Disease)
Headaches (including Migraines)
Hepatitis B and C
Herniated discs
High Blood Pressure
Insomnia
Menopausal symptoms (including hot flashes and nightsweats)
Menstrual issues
Mental illness (including Bipolar Disorder and Depression)
Morton's Neuroma
Nausea
Neuropathy
Plantar Fasciitis
Prostate issues
PTSD
RLS
Scar Reduction
Sciatica
Smoking cessation
Spinal stenosis
Stress reduction
Tinnitus
TMJ
Weight loss/binge eating
Katie welcomes you to a healthier way of healing. One needle at a time.
To learn more about our Licensed Acupuncturist Katie click here.
For new patient forms, click here Acupuncture Intake
For more information about your first appointment please click here Acupuncture Instructions for Patient Visits