We are excited that you have decided to work with us at Absolute Wellness Center. We've provided some information below to help you get to know us better.
We are conveniently located to serve the greater Charleston area including Mount Pleasant, Daniel Island, downtown Charleston and North Charleston. Call us at (843) 416-8218 if you have any questions.
We congratulate you on the first step toward better health and look forward to working with you!
---
Get knowledge of the spine, for that is the requisite for many diseases.

- Hippocrates
---
About Absolute Wellness Center in Mt. Pleasant, SC
At Absolute Wellness Center, we firmly believe that the whole is greater than the sum of its parts. Bringing healthcare disciplines together increases the effectiveness of each of those methods and is truly a holistic approach to health.
We want to be your one stop shop for all your wellness needs and we pride ourselves on working together closely to aid you in achieving your healthiest self ever. Combining chiropractic care, massage therapy, acupuncture and nutrition, we find that a multi-faceted, multi-disciplinary approach yields faster, more dramatic results. Just ask our patients.
"The chiropractic care and monthly massages with Coby corrected my chronic neck and back pain and established a maintenance program for my problem areas to ensure my chronic pains do not return. Dr. Doyle's guidance and expertise have improved my quality of life and health." – A patient of Absolute Wellness, Nov. 2014
---
Chiropractor Dr. Susan Doyle
As a child, Dr. Doyle suffered from back pain due to scoliosis. She was urged to have surgery and was told she would never run or play sports. Fortunately, she began chiropractic care at the age of ten, and within three years of care her scoliosis was decreased by 95%.  She was completely pain-free. She credits her active lifestyle and love of sports entirely to chiropractic care. This experience not only molded her as a person but influenced her decision to become a Doctor of Chiropractic. It is something that fuels and inspires her every day.
Dr. Doyle completed her undergraduate degree at St. Mary's College of Maryland with cum laude honors. While there, she played varsity lacrosse and field hockey and served as a member of the Ocean City Beach Patrol in Ocean City, Maryland. She earned her Doctorate Degree with magna cum laude honors from New York Chiropractic College in Seneca Falls, NY. While there, she received membership into Phi Chi Omega honor society.
Although originally from Maryland, Dr. Doyle grew up vacationing in the low country, and decided to make it her home in March 2009.  She has been practicing in beautiful Mount Pleasant since July 2009 and opened Absolute Wellness Center in January 2012.

Techniques
Dr. Doyle uses a variety of chiropractic techniques in her patient treatment. She tailors her adjustments to each individual and their health care needs. She works with the following chiropractic techniques:
Diversified
Activator
Cox Flexion Distraction
Thompson
Myofascial Release
Active Release Techniqes (ART)
Credentials
Doctorate of Chiropractic
Bachelor of Arts in Psychology
Board Certified Chiropractic Physician
Board Certified in Physiotherapy
Licensed in South Carolina
Extensive Post-Graduate Training
Functional Medicine/Nutrition
Women's/Pre-Natal Care
[/one_half_last]
---
Prior to coming to Absolute Wellness Center, I had chronic back pain due to hemivertebrae in my thoracic spine (a spinal anomaly from birth). I felt like I couldn't function in my day to day life.  After six weeks of care, my pain was manageable, my overall health was improved and I was feeling like my normal self again. I feel like I'm better able to do the things I enjoy in life without being hindered by my condition. Dr. Doyle is personable, caring, relatable and knowledgeable. Highly recommended!

- Absolute Wellness Patient, Nov. 2014
---
Acupuncturist Katie Murphy
At 18 years old, Katie was diagnosed with Ménière's Disease. Dizziness, vertigo, nausea and a deafening ringing in her right ear were constants in her daily life. Through the years, she had undergone two inner ear surgeries and was taking an arsenal of medications, none of which truly helped. It wasn't until she found acupuncture that all her symptoms subsided, most of which disappeared completely, and she once again began living. Within three months, acupuncture changed her life. As an acupuncturist, she intends to pay it forward and help those who suffer all kinds of medical conditions.
Katie graduated with a Masters in Acupuncture from the New England School of Acupuncture, the first acupuncture school in the United States and one of the most prestigious academic institutions in the field. She's also received advanced training under Master Tom Tam and famed Chinese herbalist B.J Wang. Katie believes in integrating both Eastern and Western approaches, ensuring a proper diet and supplementation are part of her acupuncture treatment plans. In addition to needles, she oftentimes incorporates supplementary modalities including gwa sha, tui na massage, moxibustion, cupping and electro-stimulation.
Katie holds a BA from the College of the College of the Holy Cross and a Masters in Integrated Marketing from Emerson College. She was born and raised in a small town outside Boston, MA, and is currently enjoying the warmer weather and lack of snow in Charleston.  She joined the Absolute Wellness team in January 2015.
---
Massage Therapists
Coby Daniels, Licensed Massage Therapist
Coby has been a massage therapist in Charleston, SC since his graduation from Southeastern School of Neuromuscular and Massage Therapy in 2001. With twelve years of experience in many learned modalities, Coby prefers to blend techniques to best serve clients' needs. Coby believes in the ability of the body to heal itself, and that combining chiropractic with massage therapy is one of the many paths to restoring health and wholeness to the entire body. Coby is a husband and father of two young children. He loves living in Charleston and enjoys an active and healthy lifestyle.  He joined Absolute Wellness Center in October 2012.
Techniques
Coby practices a variety of techniques including neuromuscular therapy, Swedish massage, prenatal massage, reflexology and hot stone therapy.
Arlyn Ruddy, Licensed Massage Therapist
Arlyn is a 2003 graduate of at Southeastern School of Neuromuscular Massage Therapy.  In her 13 years of experience she has worked alongside trainers, chiropractors, nutritionists  and medical doctors and has become known for her expertise in the arts of health and well being. The majority of her practice has been therapeutic  in nature and based out of holistic wellness centers, from Charleston to southern California and back to her hometown of Mount Pleasant, SC.  Arlyn feels her sole purpose is to ensure that individuals receive a quality massage experience designed to meet their specific needs. Whether it's relaxation, relief, or simply pain management, Arlyn is determined to deliver a custom massage every time.
Techniques
Arlyn specializes in Swedish, Neuromuscular Re-education and Deep Tissue Therapy.  She joined Absolute Wellness in August 2016.
Jen Harder-Finley, Licensed Massage Therapist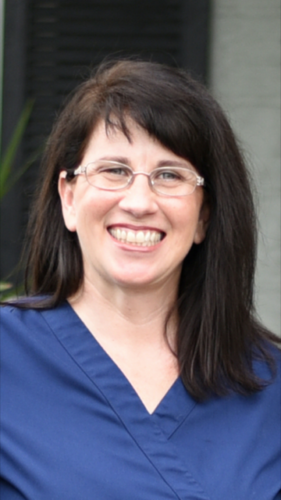 A mother and grandmother of many, Jen is happily married to her best friend.  She is a passionate advocate of natural health and is happy to share her wisdom with anyone willing to lister.  Jen has worked for many years in a spa enviromment as a massage gherapist and esthetician where she specialized in deep tissue massage and Chakra balancing energy work.  She is an avid student of yoga and regularly practices meditation.
Jen is an accomplished artist who loves to capture relationships and emotions through photography, painting and the written work.  In her free time, she loves spending time with friends and family, enjoying hot cocoa and deep belly laughs.
 Techniques
Jen specializes in Deep Tissue Therapy.  She joined Absolute Wellness in April 2017.

---
I have been going to Absolute Wellness twice a month, which I consider my maintenance regime to good health. I have a massage twice a month with Coby, who really knows how to release my tension in my neck & shoulders. I have been feeling great.

- Absolute Wellness Patient, Nov. 2014