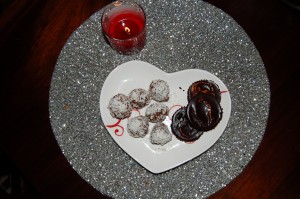 Just when our waistlines have recovered from the winter holidays,  we find ourselves surrounded by boxes of chocolates, sugary love  message laden hearts and other sweet treats. The reality is we can always  find some excuse to derail our healthy diets and abandon our commitment to  wholesome food choices. Many people fall into the trap of "but it's only  once a year," whether it's those waxy chocolate hearts or Peeps,  candy corn or Cadbury eggs.  It's not worth it!  Rarely do you feel good after eating such highly processed foods, and they certainly don't provide any nutritious value.  However, you don't  have to shun chocolate or desserts altogether.  These days, our access to  healthy recipes is greater than ever, and whether you're gluten free, dairy  free, or just trying to eat as whole and as natural as possible, there are tons  of options out there.  A little bit of prep will have you stocked with healthy sweet alternatives and abandoning those processed treats for good!
Personally, I find I feel best consuming no wheat and little to no dairy (we are all works-in-progress :)).  While gluten free and Paleo diets are all the rage these days, I encourage you to do what feels right for you. One of the most profound benefits of cleansing and consuming simpler, whole foods is that it makes you acutely aware of what you may be sensitive to, and what foods leave you feeling energized and vital. (For more information on cleansing, check out our 10 day Metagenics Metabolic Detoxification program here or email us with more specific questions here).
While this may seem like common sense, another benefit of making desserts at home is that you know what's in them.  Processed sweets are laden with chemicals, preservatives and exorbitant amounts of fat and white sugar.  When you make your own, you can substitute healthier fats and lower glycemic sweeteners for more traditional ones.  Additionally, chocolate lovers are in luck! Raw cacao is literally the highest antioxidant food found in nature; our negative, guilt laden association with it comes from the way it's processed which strips it of its natural benefits and loads it full of sugars, waxes and fillers.
While many of the ingredients in gluten free or healthy baking may not be typical of the average pantry, they are generally easy to find.  Once you have them on hand,  they compose the common denominators of most healthy dessert recipes.  Here's a quick guide to some of the more common ingredients and what you can use them for.
Ground almond meal/ ground flaxseed meal – these are common replacements for white flour.  Almond meal provides additional protein, and flaxseed meal is full of healthy fats. Warning: these will definitely increase the density and caloric value of whatever you use them for, and don't expect cakes or muffins to rise like traditional ones.
Carob powder – a natural replacement for cocoa powder. Makes great hot chocolate!
Raw cacao powder – a healthy pantry staple! Loaded with antioxidants, raw chocolate is indeed a health food. Great for smoothies, coffee and of course chocolate baked treats.
Coconut oil –  a fabulous replacement for vegetable/canola oils or shortening.  Literally a million household uses and great for hair and skin.
Xylitol –  a sugar replacement that is lower calorie, better for teeth and has a lower glycemic index. Coconut sugar is another alternative that won't cause fluctuating blood sugar levels.
Medjool dates- another sweetener and sugar replacement
Mashed bananas– a butter replacement that lends sweetness as well
Avocado–  a great butter replacement and lend a creamy texture and good source of fats
While all are great replacements to add nutrition to your diet, below are two of my favorite recipes for chocolate-y treats that will truly leave you guilt free and satisfied this Valentine's.
                                                                                       Vegan Raw Chocolate Peanut Butter Cups
* These are truly the best peanut butter cups I've ever had. Next time, I'll use mini cupcake liners for smaller portions, and I think you can use less coconut oil than this calls for. You could also substitute almond butter (or any nut butter you like) in case of peanut allergy.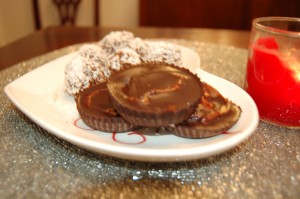 1 cup melted coconut oil ( I think you could use 1/2 – 3/4 cup)
1/4 cup Carob powder
1/2 cup raw cacao powder
2.5 Tablespoons honey or agave (I used Xylitol which lended a crunch to the chocolate as it didn't dissolve..use the recommendation if you desire a smooth texture)
1/4 cup peanut butter (or alternative)
Sea salt or cacao nibs for topping (optional)
1.) Line a muffin tin with cupcake liners
2.) In large bowl, mix the cacao, carob powder, honey and melted coconut oil until smooth
3.) Pour 1 Tablespoon of chocolate into cupcake liners. Place into freezer for 5 minutes.
4.) Remove  from freezer and spoon one-half teaspoon peanut butter into the center of each chocolate base (using  room          temp peanut butter will help make this easier to manipulate and more aesthetically pleasing).  Place back into freezer          for five minutes.
5.)  Top each chocolate with one tablespoon of chocolate mixture and leave to set in fridge or freezer for 25 to                                30 minutes.
                                                                                Gluten Free, Dairy Free Raw SuperFood Balls
**These have become an absolute fridge staple for me. Grabbing two can make a quick nutrient dense breakfast or a great afternoon snack to power you through the end of the day.  You can add Mila seeds or hempseeds for additional benefits, or could add peanut butter or any variety of extracts(I've tried mint as well)  in place of the coconut that I used here.  You could also roll in chopped nuts instead of coconut flakes.  The possibilities are truly endless.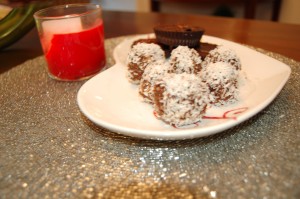 1 cup cashews
1 cup almonds
2 Tbsp chia seeds
2 Tbsp raw cacao powder
1 Tbsp Carob powder
3 Tbsp melted coconut oil
2 Tbsp coconut palm sugar
1 Tbsp xylitol
1 tsp spirulina (optional- I didn't try this)
1 tsp coconut extract
unsweetened coconut flakes
1.)  Combine cashews, almonds, chia and hemp seeds together in food processor (or blender/Ninja/Magic Bullet) until well ground.
2.) Mix together remainder of dry ingredients. Slowly pour in oil and extract.
3.) Form balls by shaping mixture in the palm of your hand.  Roll in coconut flakes. Store in fridge to harden.
Makes approximately 18-20 balls
For more ideas or make a healthy version of your favorite snack, just ask us! We're happy to help. Call us at (843) 416-8218 or email us at wellnessmtp@gmail.com.
Enjoy and have a Happy Healthy Valentines Day!!