Sweets for the Sweetie 4.0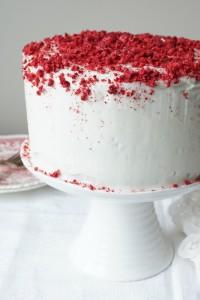 February has arrived…the month to celebrate your Valentine and everything that goes along with that. You know what we mean – cupcakes, cookies, heart-shaped boxes filled with gooey caramel and yummy chocolate. But what your tongue doesn't want you to know is those "sweets" are rich in refined sugar, high fructose corn syrup, hydrogenated oil and sodium…not to mention all those colorants, preservatives, added flavors and chemical texturants. Sounds delicious, right? All these subpar ingredients and chemical additives wreak havoc on your teeth, digestive system, even heart and brain functions. And don't forget those few extra pounds they add to your thighs, hips and stomach. Doesn't seem worth it, does it?
Well, love doesn't have to come in the shape of a box of chocolates. But it can take the form of cake, pies and cheesecake bars. Not a bad trade-off, eh? We've collected a few of the tastiest recipes that let you to celebrate your loved ones in the most delicious and nutritious ways.
Gluten-, Dairy- and Grain-Free Sticky Chocolate Fudge Cake
INGREDIENTS
½ cup ground flaxseed
½ cup cocoa powder
1 tsp baking soda
pinch of salt
1 tsp vanilla
6 tbsp honey
1 egg (see notes)
½ cup + 2 tbsp pumpkin/squash puree
2 tbsp cashew butter
¼ cup bittersweet chocolate chips
Glaze:
2 heaped tsp of powdered raw sugar (or powdered sugar)
1 tsp cocoa powder
almond milk
INSTRUCTIONS
Preheat the oven to 350 F (180 C)
Stir together the flax, cocoa, soda and salt in a bowl.
In a jug, whisk together the vanilla, honey, egg, pumpkin and cashew butter with a fork. Pour into the dry ingredients and mix until well combined.
Pour into a greased, lined 1lb loaf pan (line it with a bit of an overhang so you can lift the cake out easily). Scatter over the chocolate chips and push them into the batter. Bake for 40-50 minutes until the cake doesn't wobble when you shake the pan (the skewer test doesn't really work with this).
Stir together the powdered raw sugar and cocoa powder, then stir in almond milk until you get quite a thick glaze (just start with a teaspoon first and add more as needed). Pour over the hot cake and spread out evenly using the back of a spoon.
This recipe is courtesy of topwithcinnamon.com.
Clean, No-Bake Peanut Butter Pie
INGREDIENTS
Crust:
1 cup walnuts or pecans
1 cup cashews
2 tbsp agave, honey or maple syrup
3-4 tbsp almond, rice or soy milk
2 tsp pure vanilla extract
1 tsp cinnamon
¼ tsp salt
Filling:
1 cup organic peanut butter, unsalted
3 medium ripe bananas
3 tbsp almond, rice or soy milk
2 tsp pure vanilla extract
¼ tsp salt
1/3 cup dark chocolate chips, mini or regular (optional)
INSTRUCTIONS
To make the crust, add Crust Ingredients to a food processor and process until a ball of dough forms, stopping and scraping the sides of the bowl. Start with a few tablespoons of almond milk and add more if necessary to bring to a desired consistency. Be careful not to over-process the crust into a nut butter. Transfer the dough to a 9" pie dish and flatten on the bottom and sides with your hands to make a pie shell. You can make a pretty rim using the fork.
Give the food processor a rinse, wipe with a towel and add Filling Ingredients. Process until smooth, pausing an scraping the sides of the bowl. Pour filling to the prepared crust and smoth the top with a spatula. Sprinkle with chocolate chips (optional), cover with plastic wrpa and freeze for 3-4 hours or until frozen. Thaw on a counter for about 30 minutes before slicing and serve.
Storage Instructions: Free covered for up to 3 months.
This recipe is courtesy of ifoodreal.com.
Cranberry Lemon Cheesecake Bars
INGREDIENTS
Crust:
1½ cups pecans
2 tbsp whole wheat flour*
½ tsp cinnamon
¼ tsp salt
2 tbsp maple syrup or raw honey
Filling:
18 oz. tub 2% cottage cheese
1 cup 2% Greek yogurt, plain
1/3 cup mape syrup or raw honey
2 eggs, large**
2 tsp pure vanilla extract
2 tbsp whole wheat flour*
Topping:
¼ cup water
¼ cup maple syrup or raw honey
2 cups fresh cranberries***
1 tbsp cornstarch****
1 lemon, zest of (plus more for garnish)
½ lemon, juice of
½ tsp pure vanilla extract
INSTRUCTIONS
Preheat oven to 350 degrees F and line 8 x 8 square baking dish with unbleached parchment paper, overhanging on the sides. Set aside.
To make Crust: In a food processor, powerful blender or Magic Bullet, process pecans into fine crumbs. Transfer to a medium bowl along with flour, cinnamon, salt and stir to combine. Add maple syrup (honey) and mix well. Using your hands, press into prepared lined pan and set aside.
To make Filling: Add Filling ingredients to a food processor or blender (I used my Ninja Ultima's main jug for the Filling and single cups with a blade for making the Crust) and process until smooth and creamy, for about 2-3 minutes. Pour over crust and bake for 60 minutes or until the cheesecake has set and edges are lightly browned.
In the meanwhile, prepare the Topping: In a small saucepan, add water and maple syrup (honey), and bring to a boil. Add cranberries lemon zest and juice, vanilla and cook on low for a few minutes or until a few cranberries have popped. Set aside.
Remove cheesecake from the oven, pour Topping on top and garnish with lemon zest if desired. Let cool at room temperature for at least 30 minutes and then in the fridge for 2 hours. Lift the cheesecake out of the pan by holding the flaps and cut into 16 squares.
Storage Instructions: Refrigerate in an airtight container for up to 5 days or freeze for up to 3 months.
Notes
* For gluten-free version you can replace flour with half the amount of cornstarch. It will work perfectly in the filling although the crust might be a bit soggy. I mean if you have to, the cheesecake still will be fine and delicious.
** You can use ½ cup egg whites instead.
*** Use blueberries, blackberries or strawberries instead. Frozen work too.
****Try a few tbsp of chia seeds as a thickening agent instead of cornstarch.
This recipe is courtesy of ifoodreal.com.