A 3 Day Kitchari Cleanse is the Gentle Reset You Need Right Now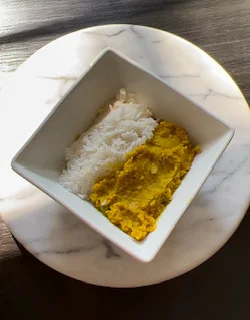 I'm a bit of a cleanse junkie. There, I said it.
I used to do a metabolic detox quarterly, then incorporated a fasting detox a few times a year and have tried a whole host of things at least once, from a reasonable "eat clean and moderate portions for a month" to a three day gallbladder flush that included consuming several tablespoons of omega 3-6-9 oil only. And it's in keeping with Western culture – we're a bit extreme. We like extra, we like overboard. We detox to retox.
Contrast that with Eastern ideas of cleanses (and also keeping in mind that their normal diets are historically more moderate than the Standard American Diet – SAD indeed). They are not a white knuckled exercise in deprivation but are nourishing, warming and gentle. A Kitchari Cleanse is simply an example of that concept.
A one-pot dish, kitchari originates in South Asia and has references dating back thousands of years. The skillful use of spices and vegetables is designed to produce balancing effects for the three bodily doshas of Ayurveda – Pitta, Vata and Kapha. It's essentially a blend of legumes and rice – forming a perfect protein. It is traditionally very well cooked and a porridge like consistency, making it a staple comfort food and ideal for nourishing the very young and very old.
Purists generally cook everything in one pot and many versions call for no vegetables. However, as it's the only thing you'll eat for three days (at least), my opinion is that you should like it. I add carrots, peas and celery to mine, but a pepper or spinach might be nice too. I prefer Jasmine to the traditional Basmati, but you do you. This is my variation and I encourage you to play with it (though know that too much variation will alter it's dosha balancing effects).
Additionally, a traditional kitchari cleanse includes increased doses of ghee in the mornings. Start with 1 Tablespoon, then 2 on the second day, then 4 on the third day. Functionally speaking, ghee provides butyric acid – important for a healthy digestive tract. Ghee helps flush our digestive tract, helps remove toxins, restore the gut lining and supports healthy probiotics, or "good bacteria." It also helps fight inflammation.
Kitchari Recipe
Note: for 3 days, I generally double this recipe. Also play with the spices to your liking.
Ghee – 1 teaspoon
Coriander seeds – 1.5 teaspoons (or 1 teaspoon ground)
Fennel seeds – 1.5 teaspoons (I tend to leave these whole for texture)
Cumin seed – 1 teaspoon
Turmeric powder – 1.5 teaspoons
Cumin powder – 1 teaspoon
Split mung dahl – 1 cup
Basmati or Jasmine rice – 1 cup, rinsed
Ground cardamom – 1 teaspon
Bay leaves – 2
Cinnamon stick – 1/2 stick
Fresh ginger root – 1 tablespoon, minced
Water – 4 cups
Cilantro leaves – 1/4 cup per serving
Optional – 1 cup carrots, 1 cup celery, 1 cup peas, 2 cups spinach
Toast the fennel, coriander and cumin seeds over medium-low heat. When they begin to pop, transfer them to a mortar and pestle or clean coffee grinder, and grind into powder.
In a large pot, melt the ghee. Add the ground spices, turmeric powder and cumin powder. Stir into a paste.
Saute vegetables until firm-tender
Add the split mung dahl, yellow dahl and rice to the pot. Stir and toast for 1-2 minutes.(This is the traditional method. I prefer my rice less broken down so cook separately in a rice cooker with 1.5 cups of water).
Add the cardamom pods, bay leaves, cinnamon stick and minced ginger.
Add the water and stir the kitchari. Cover the pot with a lid and bring the liquid to a boil.
Reduce to a simmer for about 30 minutes, until the water is absorbed and the kitchari is tender and porridge-like.
Serve warm with cilantro leaves.
When reheating for each meal, feel free to add a splash of water to loosen up the kitchari.
Eat only kitchari for minimally three days and up to ten. And more importantly – let me know how you feel!